| | | | |
| --- | --- | --- | --- |
| Poster: | He Live's | Date: | Mar 23, 2008 12:46pm |
| Forum: | GratefulDead | Subject: | UPTOWN THEATRE - Easter Sunday Sermon |
UPTOWN THEATRE, Chicago, IL, May 15-16, 1978
i often associate the Grateful Dead's music with architecture. certainly the band was very fond of playing nice rooms. and what serious musician wouldn't be? especially a guy like PHIL, who took the music as seriously as any classical musician, even more so, there was the feeling that ".... wow, we get to play this gorgeous theatre with nice acoustics, let's make it good...."
Architecture was a crucial part of their sound as well-- when they were on, each song had a shape that was tied to the whole -- more than most popular bands, DYNAMICS (all of them: up & down, in & out, slow & fast) were expertly employed for emotional and structural effect. through the use of dynamics and the careful building of momentum each show could produce a unique and lasting "sonic edifice." though the components might be similar from night to night, like the use of geometry and materials in architecture, the overall effect would be unique. (why else would we even consider checking out yet another estimated>eyes?)
the Dead played the Uptown 8 times in 78, and then 3, 3-night runs in 79, 80, and 81. all 3 night runs except where i wish to draw your attention here:
May 16 & 17, 1978 -- a stellar two night stand in the old theatre: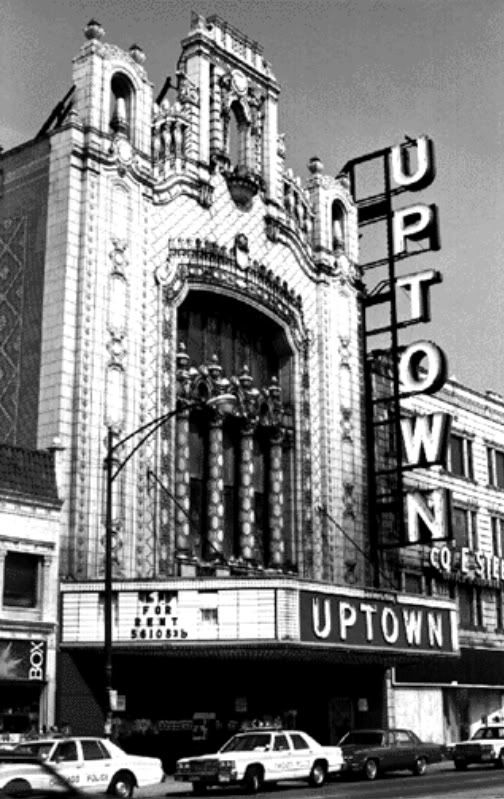 MAY 16: Jack Straw, Dire Wolf, Mexicali Blues-> Mama Tried, Peggy-O, Cassidy, Row Jimmy, Passenger, The Music Never Stopped Scarlet Begonias-> Fire On The Mountain, El Paso, Ship of Fools, Estimated Prophet-> He's Gone-> Drums-> Comes A Time-> Sugar Magnolia, E: Johnny B. Goode
The set lists from 78 are VERY same-ish form night to night. The Mexicali>Mama Tried is a welcome diversion here. as usual the Music Never Stopped brings the set to an exultant conclusion. Things heat up again right away in the second with a well-played scarlet and then at the opening of fire, they really sound like they are starting to hit on all cylinders -- bobby and jerry have a great sound mix -- phil and the drummers provide the structural underpinning, and as time has gone on they have progressed from the somewhat rigid '77 versions of Fire and sound supple and agile here. LIKEWISE Jerry is spot on vocally and the story of the long distance runner emanates from his guitar......
Bob introduces El Paso as a "death and destruction song...." a nice 2nd set treat, sweet backing vocals from MR GARCIA. Ship of Fools follows in it's usual placement, but is an excellent version nonetheless.... yet another superb estimated is next, with a slightly extended jam on the outro -- bobby content to plow into eyes but Jer decides on [...] "He's Gone," thankfully, because a reallllly nice version is offered up... the whole band sounding very at peace and content to just let the song WELL UP -- and it does -- a special version! (can you believe this is an AUD?) a tasty vocal jam at the end seals the deal.... into drums......but they must need a bathroom break, because jerry comes back out and they leave him alone for a stellar [...]JERRY SPACE
after already giving us scarlet>fire, ship of fools and he's gone, jerry leads the band into another tender vocal, a very nice, as always, "COMES A TIME." they rock us out with Sugar Magnolia and then a quick Johnny B. Goode to send us on our way!
MAY 17: Mississippi Half Step-> Franklin's Tower, Me & My Uncle-> Big River, It Must Have Been The Roses, Looks Like Rain, Tennessee Jed, Lazy Lightning-> Supplication Samson & Delilah, Friend Of The Devil, Dancin' In The Streets-> Drums-> Terrapin Station-> Not Fade Away-> Around & Around, E: Werewolves of London
this was the last show of the spring tour, and as others have noted it was a laid back affair. but there are many treats here -- the band was choosing wisely and almost all versions are well above average. similarly, for the time i find this to be a refreshing set list, the always welcome Miss 1/2>Franklin's opener smokes, and the tempo on Franklin's is just perfect, just absolutely perfectly mellow and uplifting and like last night Jerry is in perfect balance, his vocals and guitar both sing with the same emotional quality. this is not flashy licks stuff, just pure musicianship of the highest order -- so far from any sort of meaningful comparison to any other musician -- and the band -- utterly IN TUNE and copasetic.... what a beautiful run he plays at 4:20 - 4:50 -- not really stretching the song at all just expressing it so beautifully -- uplifting shit!
[...]
it's STEVE PARISH's birthday so there's lots of good vibes at this show and goofing around on stage -- (like bob says it's the drummer's birthday -- of course it's not) -- the recording of what sounds like a really good T JED warbles unfortunately. it must be roses is a treat, and LL>supplication brings the set smoking right to the end....
in the second, DANCIN is taken at an absolutely break-neck tempo, unfortunately, you can't hear phil too well, but jerry jams his socks off, not a 5 star version, but certainly 4 star quality.... jer abandons the WAH WAH at about 7:40 and says, ok fuck it, let me pick it clean and let's loose a few hot bluegrasss runs-- can you believe the guy can just play his guitar clean like that? a short vocal jam ends the song, with just the CROWD accompanying the band -- they slide into drums.... they come back with a rather scary 2 minutes of space before jerry decides on [...] TERRAPIN.
once again this proves a GREAT AUD -- the crowd quiets and you get a wonderful, clean version of the song -- jerry does a fine job on the lyric.... keith is mixed just right. personally, i would like about a 5 minute Terrapin outro.... but i can live with the mysterious mood they provide in the last two minutes here. they don't quite pick up the tempo enough for my taste on NFA, however, it is well jammed, like most of the 77-78 versions (3.5 stars). however, they come back with a great energetic [...]AROUND and then just to make sure you know they really did have a ball -- WEREWOLVES OF LONDON sends us home. i find the version from 5/11 to be really great, but what can you say -- JERRY howls like a werewolf -- who's gonna complain?
This post was modified by He Live's on 2008-03-23 20:16:22
This post was modified by Diana Hamilton on 2008-03-23 19:46:05